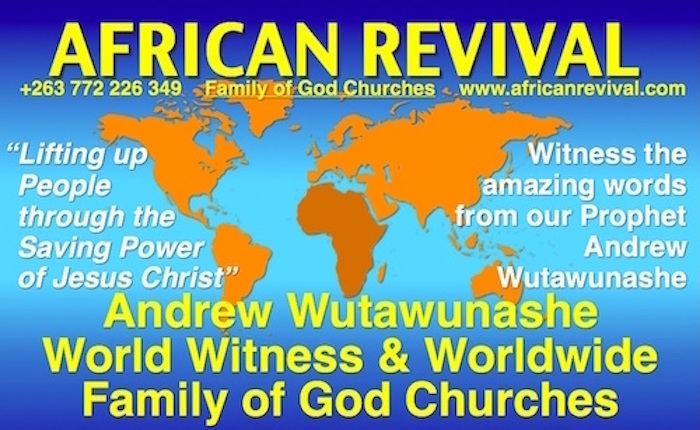 Welcome to the Worldwide Family of God Churches
The Worldwide Family of God Church is a vibrant multi-national and multi-cultural church that believes and teaches the Lordship of Christ Jesus and His power to save, transform and lift up lives in their totality of soul, spirit and body. It has close to a thousand urban and rural congregations in sixteen nations in Africa, Europe, the Americas and Australasia.
APOSTLE ANDREW WUTAWUNASHE
Founder And International Overseer
Apostle Andrew Wutawunashe is the Founder and Overseer of the Andrew Wutawunashe World Witness and Worldwide Family of God Churches (AWWW). God placed on Apostle Wutawunashe an apostolic and prophetic ministry to the nations that focuses on transforming and building people through the power and wisdom of Jesus Christ, and on equipping the body of Christ to carry out its mission in the earth .
Today Apostle Andrew Wutawunashe oversees close to a thousand growing churches in 16 nations in Africa, Europe, America and Australasia. Young people from all backgrounds are drawn to his ministry and are embracing the message of hope and usefulness to God and people. A distinctive in Apostle Wutawunashe's ministry is the burden he has for the rural church in the nations where God is moving mightily through him to lift up people and families. His apostolic and prophetic ministry has taken Apostle Andrew Wutawunashe to minister to all the body of Christ in many parts of the world. In many places, societal habits, communities and nations have been changed visibly by the transformational power of the gospel of Jesus Christ that Apostle Wutawunashe preaches.
Prophet Andrew Wutawunashe is often called upon to provide Godly leadership on national and civic platforms relating to societal and national redemption and the well being of families and communities. In this Spirit-led ministry, Apostle Wutawunashe founded and chairs the Faith for the Nation Campaign, which is the churches' platform for godly nation building.
Overseer Peter Mukwena is Overseer in the Andrew Wutawunashe World Witness and Worldwide Family of God Churches (AWWW). Overseer Mukwena supports the Apostle

Wutawunashe

by helping him to minister in the Worldwide FOG Churches, principally, the United Kingdom Church, Canada, USA, Australia, Ireland, etc. Overseer Mukwena is based and is resident in Zimbabwe, but makes frequent visits to the other Worldwide FOG Churches.